After Endura T20 in May 2017 and all EZT in September Innokin returns with an Endura T20-S more durable, more powerful with a choice of battery tubes 1500 mAh or 2000. Innokin are improving its starter kits with every new feature.
Everything in simplicity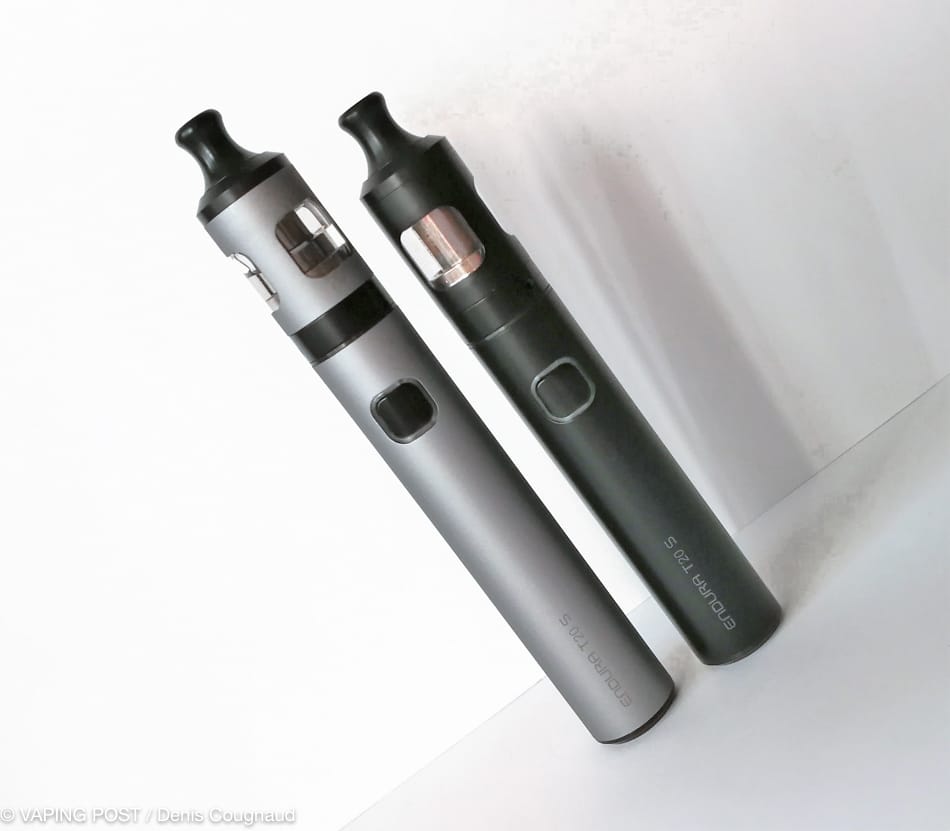 It must be admitted, it is easier to smoke than to vapote. Fortunately, there are products like this Endura T20-S, which try to facilitate this life-saving migration.
Compared to the Endura T20 , the design does not change, but we appreciate the new soft touch coating, very nice. Like the other, the Endura T20-S offers a resistance of 0.8 ohm. This value of resistance corresponds to a product of vape all day,  which must not consume too much liquid, nor overuse the battery.
For this T20-S version, Innokin offers a choice of 2 batteries of 1500 mAh and 2000 mAh. Above all, you can buy a single battery separately. Indeed, the kit is offered with the battery of 1500 mAh, you add another battery alone, if you want more autonomy.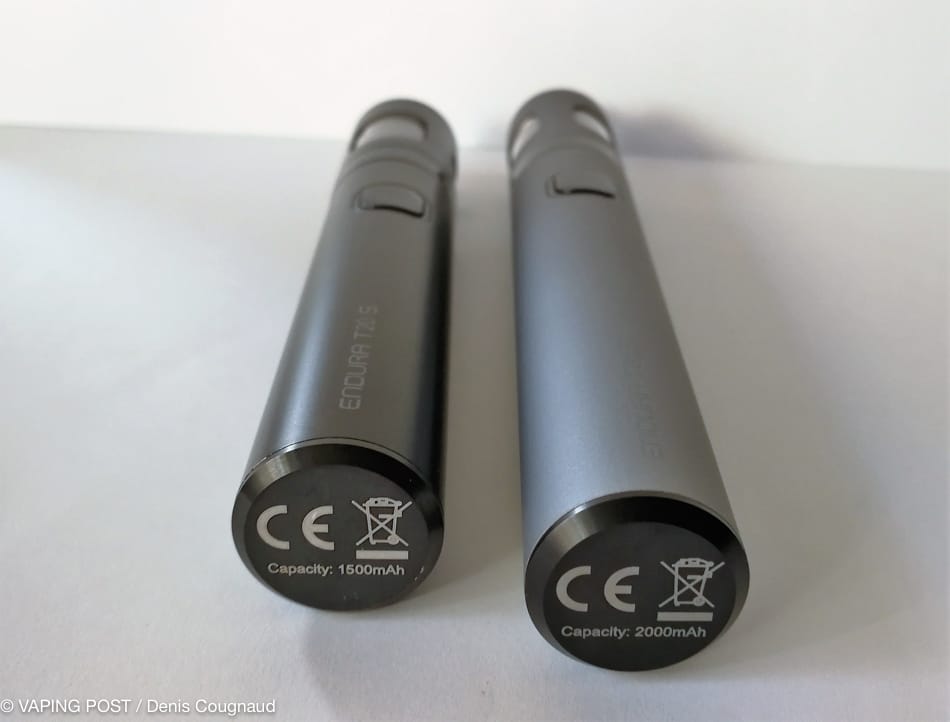 The Endura T20-S kit from Innokin consists of a battery, a clearomizer , a resistor and a USB cable. It brings together all necessary for the vape in a small footprint.  
It is aimed at vapers who want to acquire something light easy to use. You can still vape with your favorite clearomizers, subject to a resistance greater than 0.6 ohm and less than 1.5 ohm.
Innokin improves a product that was already quite successful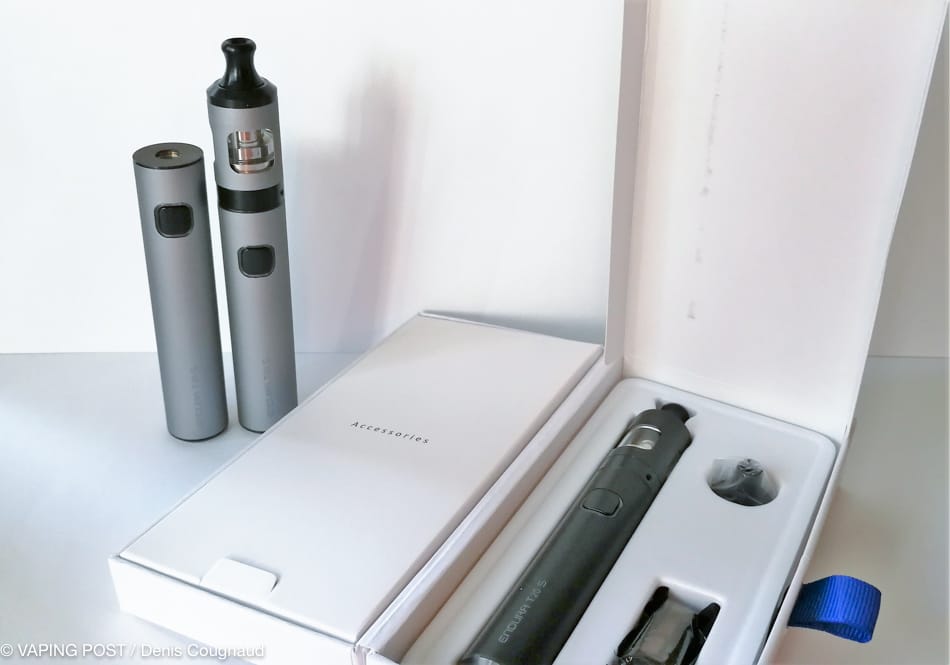 The presentation box of the Endura T20-S is small and classic like a glasses case. The whole is simple and coherent. The contents of the box is correct but without wall charger. You will find a USB cable, a spare resistor, a user manual in English, replacement seals and a replacement drip-tip. My first impression was the resemblance with the eGo ONE . It's small, light and ergonomic.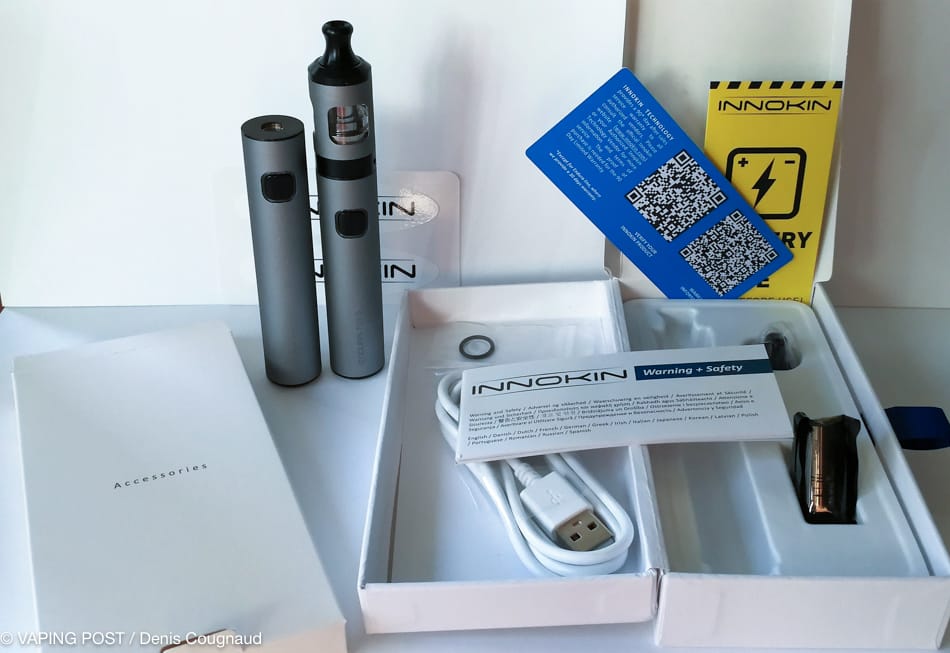 The T20-S version loses the protective cap drip tip , which was convenient to protect your e-cigarette, but was easily lost. So no regret at this level.
The assembly is good, the set can easily hide in the palm of your hand or your pocket. The threads are suitable. On the other hand, look for no airflow adjustment ring there is none. This absence is also not that troublesome for those resistors that do not deserve a large flow of air. The flow rate is sufficiently low to allow a new vaper to vapot indirectly, as he generally seeks.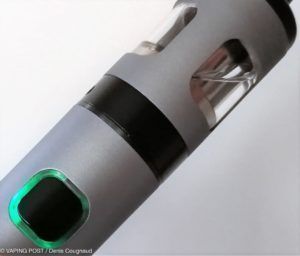 The Endura T20-S has no adjustment . The fire button is surrounded by a thin LED that indicates the charge level of the battery. The latter barely exceeds and is therefore not easily detectable to the touch.
The absence of adjustment indicates that the Endura T20-S is preset to operate resistors from 0.8 ohm to a fixed power of 18 W. Do not worry for those who already have a normal T20, the T20-S also fits 1.5 ohm resistors.
These settings guarantee a significant autonomy for only 1500 mAh. This kit S is more powerful than the T20 and above all will probably fit better to a wider range of vapers.
Focus On www.urvapin.com For More Vape Start Kit.
Technical Review
Essential features of the Endura T20-S kit:
Length: 130 mm in 1500 mAh version, 160 mm in 2000 mAh version

Diameter: 19 mm

Weight: 95 g in 1500 mAh version and 110 g in 2000 mAh version

Battery capacity: 1500 mAh / 2000 mAh only but not included in the kit

Color: Black, Stainless Steel, Blue, Red, Purple, Gray

Fixed wattage: 18 W for 0.8 ohm

Maximum output 6A

Maximum output voltage: 3.85 V

Resistance minium: 0.6 ohm

No screws 510

Micro USB charging not protected by a cache

1 square button on the top of the battery (on and off by 3 rapid presses)

3 drip tips with 2 different types

Remaining battery display by blinking in three colors

Material: steel / stainless steel
Characteristics of Prism S clearomizers:
Height: 48 mm

Diameter: 19 mm

Atomizer

 capacity : 2 ml
The pack includes
A simple manual but in English

USB cable

Two Prism resistors in 0.8 ohm
Somple use for a normal vape without a bad surprise
After 3 button presses, the micro LED lights up around the single button. This micro LED lights up when you are vape and shows the discharge rate of your battery . It's not really practical and the orange comes too late. I was surprised by the red, which comes soon after the orange and only lasts a few puffs.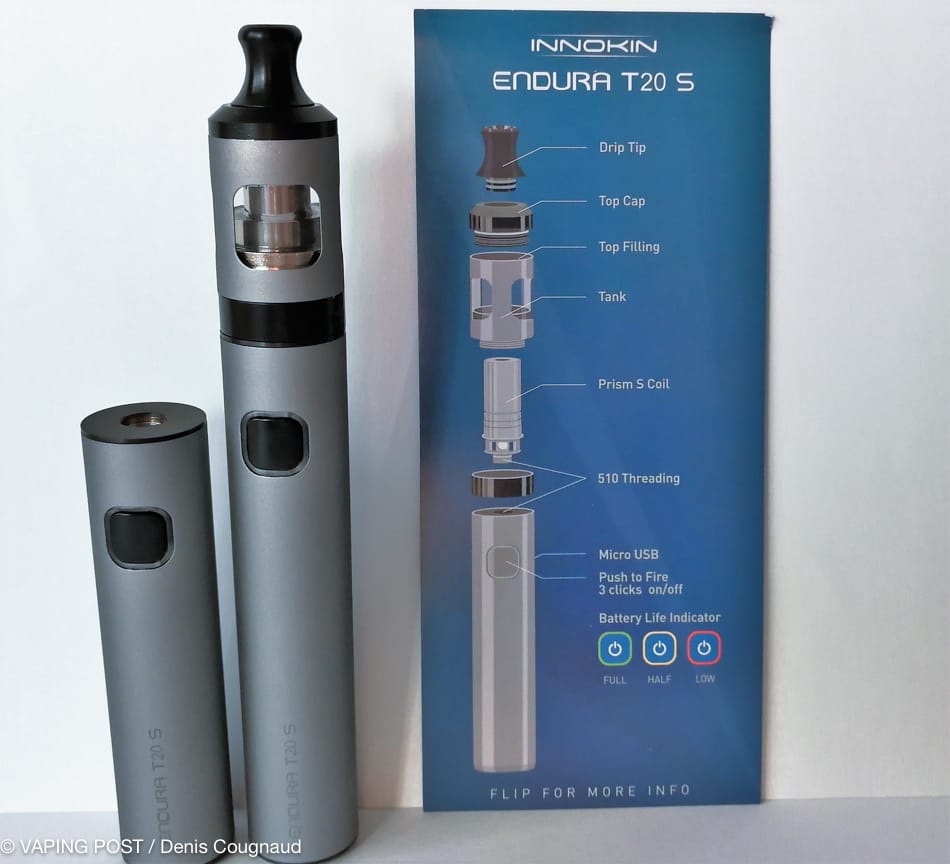 As for the settings, you only have the fire button to vaper anything else, and between us, it's not more complicated than a lighter.
Let's talk about the feeling of the vape. At first I could have micro risers in the mouth but it's because I filled the tank too much , do not exceed the top of its windows.
The filling is done from above by unscrewing the base of the plastic drip tip. It is convenient and quite easy and there is enough space to use most of the bottles or pipettes on the market. The only drawback comes from screwing where the liquid sometimes flows a little in the end, it is not unacceptable but an annoying hair in the long run.
You also notice that Innokin provided 2 different drip tips, one of which is in one piece, which allows easier unscrewing for filling.
Let's add that this resistance is perfectly balanced and that naturally it consumes more liquid than the 1.5 ohm of the T20. The steam is hotter than on the T20, or even a hair too hot if we chain the puffs. I would have preferred a setting of 16 W.
A remarkable autonomy
The average battery life was 4 hours for the 1500 mAh version with 0.8 ohm resistance, the same as I could see with the T20 and its 1000 mAh for a resistance of 1.8 ohm. With the 2000 mAh version, I held 5 hours.
In summary, I sprayed about 6 ml on the 1500 mAh battery and 8 ml on the 2000 mAh version. These averages are average work days, where I'm not hanging on this little Endura T20 all the time. It is not made to make big clouds but to make you just enter the world the vape without a nervous breakdown.
A recharge time really too long
Limited to 0.5 A, the recharging of the battery of 1500 mAh took me 3h30 and that of the 2000 mAh, a little less than 5 hours. It is too long !
In the book of grievances, I would also add that the end of the battery arrives a little too late. The power becoming insufficient and I could have agglutinations, sign that the liquid is not consumed enough by a weak power of the resistance. My advice is to change the battery when switching from LED to orange.
It remains that this new resistance Prism never gave me a burnt taste and offers a basic vape. The taste is quite honest for this kind of material, but we must recognize that these resistances need a good break-in.
The last point, always very pleasant, especially compared to the competition, is that it remains silent and easily concealable . I know that for some it is a real criterion of purchase.
The choice becomes difficult between the 1000, 1500 and 2000 mAh versions for neophytes.
Anyway with this kit Innokin Endura T20-S, plus the battery of 2000 mAh and a small vial of liquid of 10 ml, you will be ready for a big day of vape. And it's essential especially for less than 150 g in your pocket.